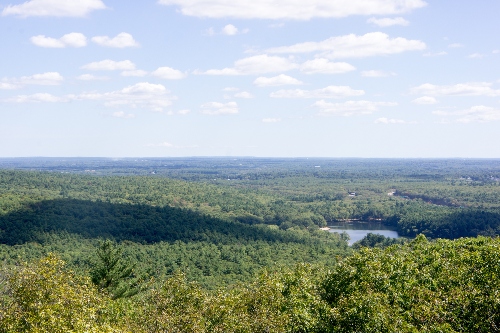 Outdoor activities in Milton are enjoyed on a large tapestry of managed green space thanks to the Department of Conservation and Recreation. A walk through the forest, a dip in the water, a fresh fish on the campfire, or a lesson in meteorology is all in the weekly forecast and part of your outdoor playground when you live in this magnificent Boston neighborhood.
Blue Hills Reservation: This expansive 7,000+ acre park is managed by the DCR (Department of Conservation and Recreation). This is your window into adventure and summer fun in Milton, MA. Rock climbing, canoeing, kayaking, fishing, swimming, camping, horseback riding, mountain biking, and more opportunities await you, your friends, and your family at this wonderful park. The wildlife includes coyotes, red foxes, turkey vultures, wild turkey, white-tailed deer, copperheads, and endangered timber rattlesnakes (so you might consider investing in a pair of snake gaiters for that Sunday afternoon hike). The Blue Hills Reservation offers over 125 miles of hiking trails through Dedham, Milton, Randolph & Quincy. You can even enjoy a little science, math, and engineering in the state park complements of the Blue Hill Observatory. The observatory offers kite-making workshops, weather watching, balloon launching (to learn about wind with biodegradable balloons), the math of meteorology as well as guided hikes through the Blue Hills. Outdoor experiences abound throughout the state park including some local favorites described below.
Blue Hills Trailside Museum: The Massachusetts Audubon Society, founded in 1896, operates the Blue Hills Trailside Museum (part of the Blue Hills Reservation) in partnership with the DCR. The center includes outdoor exhibits of native wildlife … such as rescued river otters and red foxes (which would not survive if returned to the wild). The wildlife sanctuary offers day camps for children 5-16 at their Blue Hills Nature Camp as well as a wide variety of programs for outdoor and wildlife enthusiasts of all ages.
New England Base Camp: Located in the Blue Hills Reservation, the New England Base Camp is an outdoor adventure park where everyone is welcome. The NEBC offers programs for families, scouts, schools, and corporate team building. Day camps are offered for children 6-10 years and for children 7-17 years with a wide curriculum of outdoor skills available to the campers. Nature trails, outdoor cooking, canoe treks, archery, camping, and a high ropes course are all part of this curated outdoor experience for young and old alike.
Houghton's Pond Recreation Area: You can enjoy a cool and refreshing swim in the pond from 10:00 am to 6:00 pm. DCR lifeguards supervise the beach in July and August. The 24 acre pond is part of the Blue Hills Reservation and includes opportunities for horseback riding, mountain biking, hiking, and fishing, as well as that all important dip in the water!
Ponkapoag Pond Loop: Part of the Blue Hills Reservation, exploring Ponkapoag Pond is a wonderful escape into the natural world. The pond loop trail winds around Ponkapoag Pond in an approximate 4.4 mile lollipop loop. It is considered to be an intermediate hike (skill level), alternating from flat terrain to hillier sections. Many hikers will finish the hike in a little over two hours. A half mile boardwalk extends .5 mile at the northwest corner through the bog mat toward the center of the pond. The boardwalk consists of a series of connected wooden planks and provides the hiker with interesting views and dry feet. A shorter hike from the parking lot to the end of the boardwalk and doubling back to your vehicle makes for a more tolerable hike for a family with younger hikers. The trail is enjoyed by hikers, equestrians, bicyclists, and trail runners alike so keep your eyes open!
Remmes & Company is Boston's premier real estate team. We look forward to helping you find your perfect home in the Milton neighborhood or one of the other many fine upscale Boston neighborhoods we serve. Contact us today!